Private course


Loading...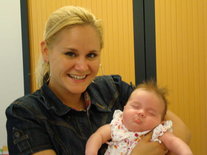 Private course
I come to your home with all the course material, so that you can follow the course 1 to 1 with your partner in your own environment. Great if you don't want a group course or if the group course is already fully booked. 2 sessions of 2.5 hours.

You will receive a e-book, hand-outs, and all exercises per what's app, so you can listen to them anytime, anywhere.

What can you expect during these 2 sessions:

Extensive and complete information about the delivery, what to expect, what to do.

Through the relaxation and visualization exercises you learn to bring yourself into a deep state of relaxation and concentration, so that you can apply it immediately during your delivery, so that you are well prepared and enter your delivery with confidence.

· Your (birth) partner is taught to apply "light touch massage" to you. This produces endorphins, which reduces the pain experience. He / she also learns what else you can do as a partner to support you properly.

We make / discuss your birth plan.

Dates in consultation.