Online private course


Loading...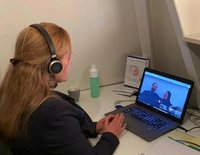 Online private course
The online private course is the complete pregnancy course from Hypnobirthingrandstad that you can follow from home (2 sessions of 2.5 hours). This private course is ideal if you are a bit further pregnant or do not want to join a group course, or if you live further away. You can then follow the course 1 to 1 with your partner at home. What can you expect during these 2 sessions:

Extensive and complete information about the delivery, what to expect, what to do.

Through the relaxation and visualization exercises you learn to bring yourself into a deep state of relaxation and concentration, so that you can apply it immediately during your delivery, so that you are well prepared and enter your delivery with confidence.

· Your (birth) partner is taught to apply "light touch massage" to you. This produces endorphins, which reduces the pain experience. He / she also learns what else you can do as a partner to support you properly.

We make / discuss your birth plan.

The e-book and hand-outs will be emailed, and you will receive the exercises via what's app. A call appointment is also scheduled at 37 weeks to dot the i's and answer the latest questions. Dates in consultation.